travel.T I B E T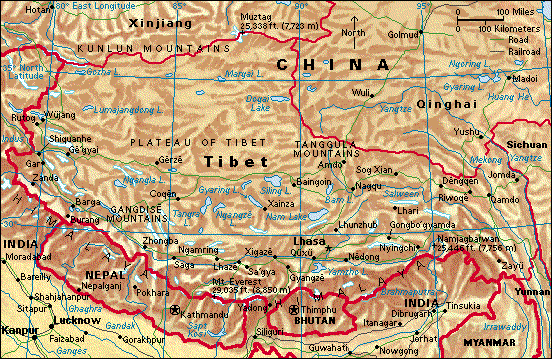 Last updated: 2, Mar 2001
Getting There...
| | |
| --- | --- |
| By air, there have been opened five flight routes. Beijing-Lhasa, Chengdu -Lhasa ,Chongqing-Lhasa, Xian-Lhasa, Kathmandu-Lhasa.But only flights from Chengduare the dairly service. Overland: there are several roads to Tibet from Qinghai,Sichuan,Yunnan of China and Kathmandu from Nepal. The quite accessable way is from Qinghai, Yuanna and Kathmandu. The Chuan-Zhang Highway is too rough to drive... | |
must see!
schedule of flights and buses
Getting There with some fun...
| | |
| --- | --- |
| The risk if you're caught is a fine of up to 2500 Yuan, that's the most I've heard of. Three hundred dollars for the adventure of your life is pretty cheap if you ask me! | |
Getting Around...
| | |
| --- | --- |
| Tibetans tend to rely on prayer to facilitate a safe arrival - you might consider doing the same once you see the conditions. | |
Getting there
The only legal routes to Tibet are:
1. Via Chungdu where you can buy an air ticket for 3000Yuan ($375) This allows you to travel around Lhasa. (Note: check our schedule on top for the latest information about pricing.)
2. Via the Golmud to Lhasa highway. From this remote town on the borders of Qinghai and XinJiang there is a 35 hour bus route to Lhasa. Although there are stories of successful attempts without paying the permit fee 1750 Yuan most people have to pay.
3. Nepal border. The days of crossing from Nepal to Tibet with no restrictions are gone. Although it is possible to cross into Zhangmu (the border town ) from there you will need a permit to travel to Lhasa which you can only obtain by organising a tour which will include a truck and a guide. This will set you back about 1000yuan.
4. From China into Lhasa; it is possible to take any of the routes into Tibet if you are willing to fork out the cash! As a cyclist you'll have to give exact days of travel and a detailed itinerary. Paying for a jeep tour with transport and guide was about 3000 for the Yunnan route. Peter Stewart of Himalaya mountain bikes based in Katmandu can help you organise the permits although he would need a considerable amount of time to get it organised. From Deqin on the border in Yunnan a travel agent offers a 6 day jeep tour for 17500yuan. In Hong Kong there is a travel agent that offered the bike tour for $3000US. You can get in touch from the Chinese Embassy in Hong Kong.
Note: The current regulations (which could change tomorrow) say that all foreigners wanting to visit Tibet must be part of a "tour group" (min 5 people). In addition, every foreigner should have a Tibetan Tourism Bureau permit (TTB), Chinese insurance, a minium three-day tour, and also a return ticket to a choice of three destinations (Kathmandu, Chengdu or Golmud). If your want to stay longer, your are told that you have to pay an extra Y100 per day.
In reality, most people either pay up and then cancel or extend their return tickets when they arrive in Lhasa, or they try to independently hitch in. In Lhasa there doesn't seems to be anyone checking to see who has or hasn't a travel permit. However some travellers have reported that they have been fined (Y100) when flying out of Tibet because they lacked "adequate papers"

Getting there with some fun
If you have a bit of an adventurous spirit this is the way to go!!! (refer to tv.tibet below for pictures)
The risk if you're caught is a fine of up to 2500 Yuan, that's the most I've heard of. Three hundred dollars for the adventure of your life is pretty cheap if you ask me! Most police don't know the rules, only in a town will they know to stop you. There is a red book with all the rules in it for foreigners in restricted areas and the fine is, for minor misdemeanors like this, up to 500 Yuan or 15 days detained. Always bargain on the 'up to' meaning zero be polite but firm and apologize, but refuse to pay unless they threaten you with the 15 days.
How When traveling illegally in Tibet it is important to stay away from the county capital towns. You cannot stay in hotels or hostels as the police will come and question you and probably fine and deport you. So carry a tent and stay outside of the big towns. You'll also need a stove and a water filter to survive.
The routes
1. Yunnan to Lhasa route. Take the Zhongdian to Deqin road remember to change money in Zhongdian its the last place before Lhasa. Deqin is a great town with a fab disco and a good place to get information on the state of the road its often closed due to landslides.
Deqin-Foshan 60km downhill moderate surface. Do not stay in Foshan there is a road workers station 3 km before and they will let you stay for 20Yuan. Fo shan police will turn you back so speed through here.
Foshan-Yanjing 50km very bad road flat. Pass the border post go another 10km before Yanjing where the first checkpoint is. We crossed at night ( 3am )and the guards were sleeping. The checkpoint is floodlit and located 200meters before yanjing town. If stopped they will contact Markham and you'll be fined and turned back.
Yanjing-Markaham 120km bad surface. Awesome scenery, the first shops outside Yanjing are 20km along the road near the mountain pass. Over the pass are great camping areas and there are many villages for supplies on the route to Markham. Markham! Dangerous place to stop although we heard of people who refused to leave being ferried towards Lhasa by the police as long as they left the county.
Markam-Juka 60km moderate road surface. Out of Markham a climb of 15km then a decent of 50km as far as the army base at Juka. Cross the river climb 3km to a truck stop motel. Juka -Zuogong 100km moderate road surface. Climb 20km steep to 4000meter pass descend 20km to a little village for lunch, climb 30km to 5000meter pass, descend 30km to Zuogong. Zuogong is a county capital but there is no obvious police presence although it's full of soldiers and there is a nice guesthouse /restaurant at the far side of this one street town.
ZuoGong-Basuo 150km bad road surface. 60km to Bamba truck stop on fair road pretty flat slight uphill. 10km steep uphill to pass after Bamba then down on very bad surface 15km steep. Then gentle down along river to Basuo 60km, on bad surface though they were making the road as we passed by. Basuo police will stop you to check passports and let you continue, possible to stay here.
Basuo-Bomi 200km fair surface. Climb 30km to pass descend 30km to Rengou lake. Really nice section like the Alps. Sandy road for 100+km into Bomi. Last few km on tarmac. Don't stay in Bomi, police will try to fine you ok for a provision stop though.
Bomi-BaYi 200km. bad road From Bomi the road goes down for 100km following the river into a rain forest with mud road, then climbs for 50km to a pass the town 20km short of pass has police be careful. Descends 30km to Lin Zhi on tarmac then 20km to BaYi.
DON'T STOP in Ba Yi police are looking for travelers to fine.
Road splits south route crosses Ba yi bridge and then 53km on sandy road to police checkpoint on bridge to Milin. Will turn you back so go at night. German coming other way had no problems on this route.
North route 130km on tarmac to Gongpujiangda. Will pass many army bases for food.
Bad road 60km to Jinda for guesthouse. 60km up to Songduo which has a guesthouse.
From Song Duo steep uphill for 25km to pass then 25km on tarmac downhill to a small town with a great Tibetan teahouse for bed and food . It also has a hot spring. Hot spring village to Lhasa. 130km tarmac flat. Finally on plateau pass many villages for rest and food.
2. Southern Route. Follow south route from Chengdu. Nearing border avoid towns and only camp. Before Markham you will pass a series of petrol storage tanks. Take the path to the right which goes around the police checkpoint and links up to the Southern highway the other side. From here it is the same as the Yunnan route above.
3. Northern route. On the map there appear to be many options and the route is the main truck route so you can expect the road quality to be the best.
4. Kashgar to Lhasa the western route. People who have done this route describe it as hard physicaly but with no real police problems .
I can understand how you feel after reading this report, but this is damn true! check out this site inorbitt bike travel guide for a full and detail report how this bunch of terrific people done it with their bikes.The blue line in the map below actually represents the route that they have taken for the trip.


Getting Around
Getting around Tibet can be difficult: the buses are often at their last gasp and travelling by 4WD can be expensive. Trucks tend to charge the same inflated prices as buses, but the Chinese government discourages foreigners from hitching rides. 'Road safety' is little more than a slogan. Tibetans tend to rely on prayer to facilitate a safe arrival - you might consider doing the same once you see the conditions. Bicycling is possible, but is not without its hazards: cyclists in Tibet have died from road accidents, hypothermia and pulmonary oedema. You can fly to Xining from Beijing, Chengdu, Guangzhou (Guangdong) and Ürümqi (Xinjiang). There are frequent rail connections to Lanzhou (Gansu) and more erratic services to Beijing, Shanghai and other regional centres.
There are some places that actually require you to procure a travel permit (namely the Everest Base Camp, Samye, Tsetang and Mt Kailash etc). The cost of the permit varies, but expect to pay between Y50 and Y100. Getting the permits yourself is a nonstarter - the PSB (Public Security Bureau) insists you go throught an authorised travel agency and that you be a memeber of a tour group. Not surprisingly, Lhasa has a large number of travel agencyies catering to this market.